Hello world,
It's been a while since I posted my last blog post but now I'm back. As we entered February, I came to think of a fun challange for myself "why not explore the many bakeries in town and taste the the most selling pastry during February: the famous "fastelavnsbolle", which translates to "cream puff" in English".
It was not so hard to convince myself to do so, as I have a very sweet tooth, I mean who doesn't. So now, two weeks later (and a few more layers on my belly), I have visited six gourmet bakeries in Copenhagen and tasted 14 different cream puffs in town. I want to introduce you to my top 5 but before I do so, I want to tell you a bit about this tradition.
Fastelavn – the Danish winter carnival
In Denmark, we have this tradition called fastelavn. It is celebrated seven weeks before Easter Day, why it falls on different days each year but always during February. This year, it falls on February 23rd 2020.
Shortly explaied, the Danish Fastelavn is somewhat a hybrid of Halloween and Carnival. Back in the old days, this Danish feast included lots of alcohol, barrel hitting and cat killing – a carnival for adults. However, today the cat is cardboard and the tradition is mostly for children, where they dress up in costumes and eat a lot of candy.
And of course you can't have a holiday without a special kind of pastry. Therefore, the "fastelavnsbolle" was invented. You can get a "gammeldags fastelavsnbolle", which is the traditional version: a sweet doughy bun filled with either creme or jam and chocolate on top. However, today you can also get a more modern fastelavnsbolle, which is made out of normal weinerbrød – this is the one I have been tasting the last two weeks as the bakeries have become very creative with the filling and apperence.
My top 5
1. Leckerbaer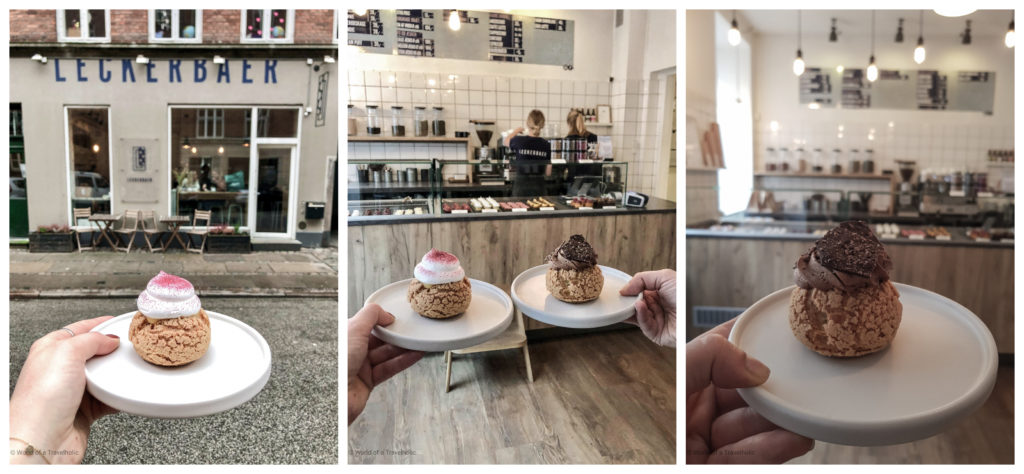 At Leckerbaer, you can find two cream puffs: Cream puff with vanilla cream, blackcurrant marmalade, lemon curd & meringue and the chocolate mousse & salted caramel. Yummy! Both are extremely delicious, however, the vanilla cream is the absolute best one in town! Everything about this cream puff is delicious: the taste, the combination of all the different flavors and it's freshness. The size of the cream puff is not too big and it's super light. I usually find cream puffs to be very heavy to eat because of the whipped cream. However, these two cream puffs are without whipped cream but with real vanilla cream which makes it so delicious.
Location: Ryesgade 118, 2100 Copenhagen Ø
Price: DKK 35,-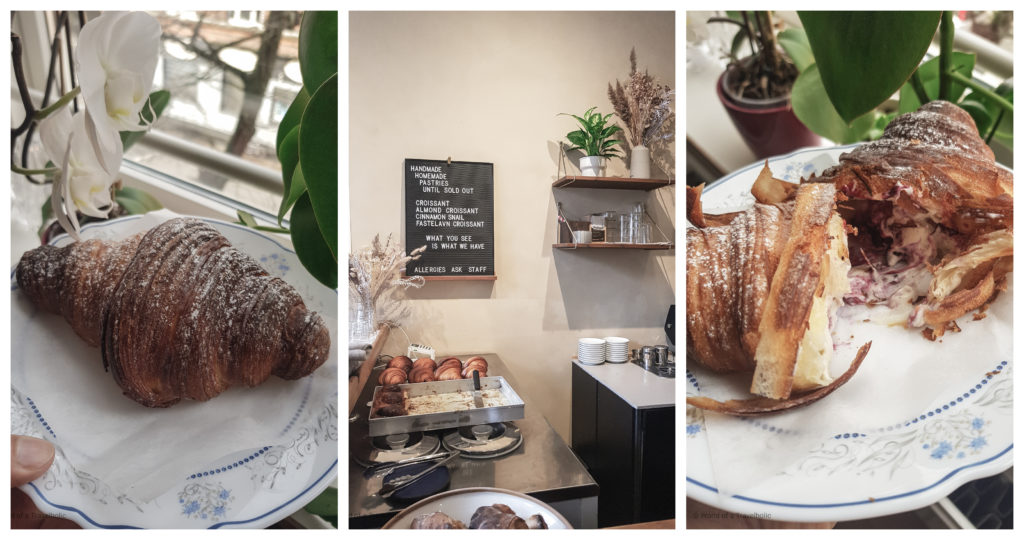 At this sweet little cafe on Amager, you can only get one kind of cream puff but the one they have is absolutely tasty! It's a super small cafe serving only a handful of pastries, however, they have some of the best croissants in town: super crispy and not too buttery in taste. When I visited Alice, I ordered a cream puff and expected to get a small box, however, I was given a regular paper bag and my first though was: "No, now I can't get a nice photo as it will be completely smashed." When I looked into the bag on my way to my bike, I realized it was a croissant and for a small second I thought they had given me the wrong thing until I discovered their crean puff was actually their famous croissant filled with delicious vanilla cream and blackcurrant. It was extremely tasty, light to eat and very creative.
Location: Markmandsgade 1, 2300 Copenhagen S
Price: DKK app. 40,-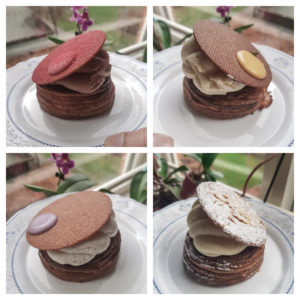 For some reason, I have not been familiar with "Andersen Bakery", even though it has existed for 50 years. Recently, my friend told me about it as it has just been renovated and had an opening event due to the new appearance. It's a fusion of Danish and Japanese baking traditions. When I walked in, I was overwhelmed with the many options this bakery had. They offer four different cream puffs and since I'm very bad at making decisions when it comes to cakes, I had to order one of each.
Nougat, mascarpone/regular cream and raspberry
Rhubarb with cream
Yuzu with mascarpone cream and apple (the winner of these four)
Blackcurrant, lemon and mascarpone cream
As stated, I liked the yuzu one best, as I'm a fan of yuzu. My thought was, I would like the nougat best but it was somehow heavier to eat – as it is with chocolate. They also take the third place because of their appearance; these cream puffs are very nice but also very pricey.
Location: Thorshavnsgade 26, 2300 København S
Price: DKK 48,-
4. HART Bakery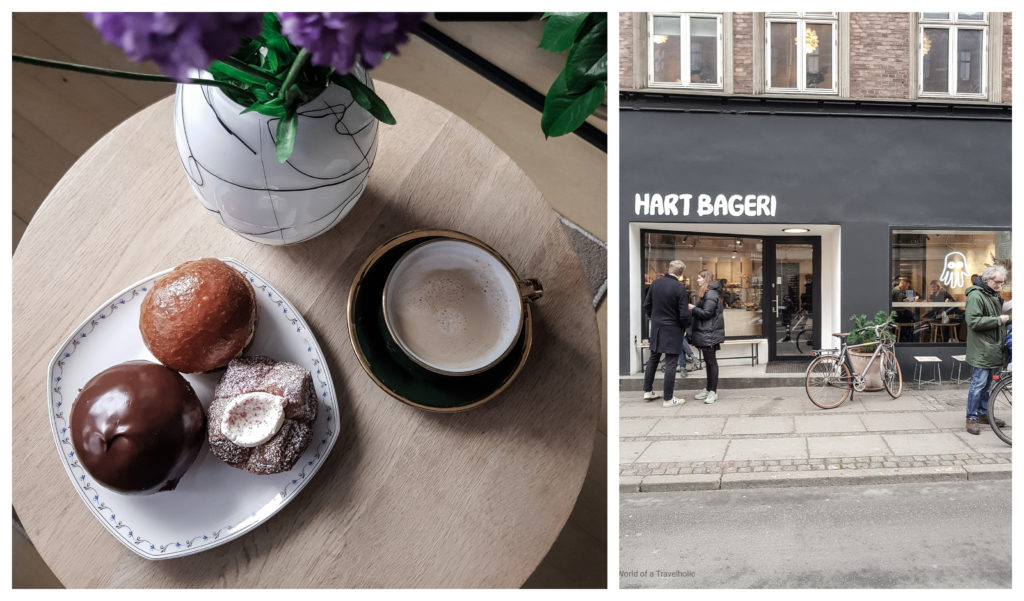 HART Bakery has taken over the baking scene in Copenhagen when it comes to bread. They are serving super delicious sourdough breads and pastries in general. I had very high expectations for these cream puffs, however, I was somehow disappointed. HART offers three cream puffs:
The special fastelavnsbolle with laminated pastry, a filling of vanilla custard and black currant jam topped with cream and raspberry.
The orange marmalade, fresh blood orange and orange mascarpone cream.
The classic with a marzipan filling and a @original_beans chocolate ganache.
They were all good, but I was just expecting more. I though my favorite one would be the beautiful special cream puff with laminated pastry and don't get me wrong, it was good, but it had just a bit too much whipped cream and I'm not a fan of whipped cream. My favorite one was the orange marmalade, which I didn't have any expectation to, but it was simply delicious. The freshness of the orange taste was a very nice twist.
Location: Gl. Kongevej 109, 1850 Frederiksberg C
Price: DKK 38,-
5. Mirabelle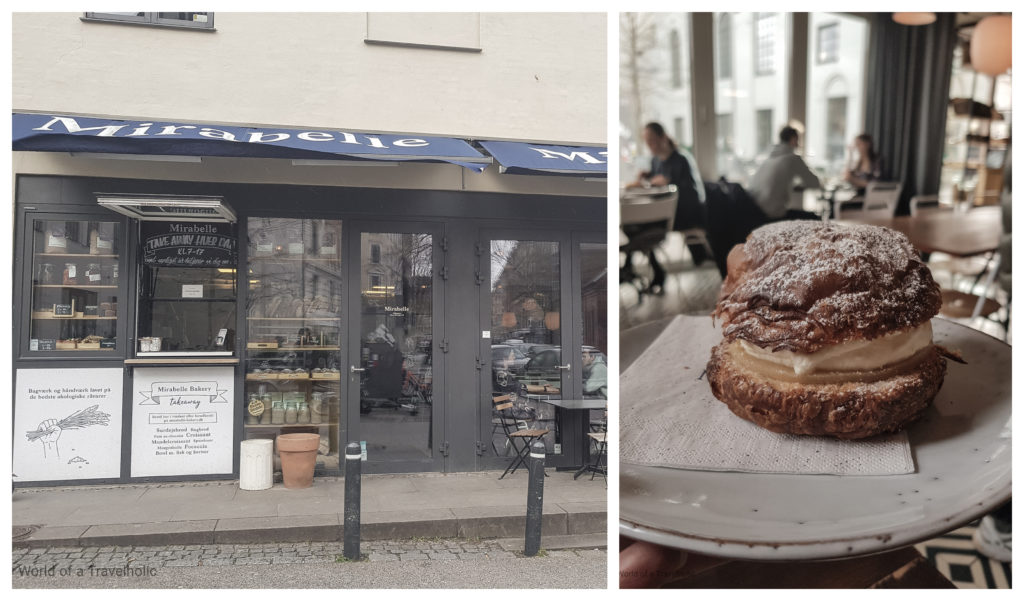 Finally, we have Mirabelle who offers three different cream puffs this year:
Fastelavn bun with blackcurrant: made from Mirabelle Bakery's light and crisp croissant dough. The blackcurrant version is filled with marzipan, blackcurrant jam, whipped cream and topped off with icing sugar and dried raspberry powder.
Fastelavn bun with cardamom: made from Mirabelle Bakery's light and crisp croissant dough and filled with cardamom marzipan cream, whipped cream, almonds and topped off with icing sugar and cardamom.
Fastelavn bun with lemon and pine: made from Mirabelle Bakery's light and crisp croissant dough and filled with marzipan, lemon curd with pine oil, whipped cream and topped off with icing sugar and lemon zests.
I got to taste two of their cream puffs: the cardamom and the lemon and pine. I liked the lemon and pine best because of the sour taste (if you haven't noticed, I'm apparently a fan of lemon). However, I missed some real vanilla cream. As mentioned, I'm not a fan of whipped cream!
Location: Guldbergsgade 29, 2200 København N
Price: DKK 45,-
The conclusion is the main ingredients this year was without doubt lemon and blackcurrant!
I'm already excited about next year's cream puff adventure, now I have to work-out a bit.
Also remember, all bakeries are serving these delicious puffs. Lagkagehuset, BRØD, Juno the Bakery (serving a semla), Andersen & Maillard and many others.
I hope you enjoyed my cream puff guide!
Much love,
Zana