Food is very important in daily life in Bosnia & Herzegovina, we simply love cooking and we spend a lot of time in the kitchen preparing dishes.
We believe that food bring people together and we go all in when guest are coming over for dinner or even for a coffee – and I promise you one thing: you won't go home before you're totally FULL.
If you ever visit a Bosnian home you'll understand what I mean.
Here I'll give you a brief introduction to some of my favorite restaurants in town and I promise you, you won't leave on an empty stomach 🙂
For years Metropolis has been my favorite café in town due to its choice of desserts – and yes, if you ask I'm a sugarholic as well :D. Not only do they have more than 15 cakes to choose between, which all look pretty good and most importantly they taste incredibly good! What I like about Metropolis is that the café differs from  all the others in town due to it's design – it's very modern and Western look-a-like but even so very cozy. What is also very recommendable is getting breakfast or even your brunch at the café.
Cuisine: Western
The Four Rooms of Mrs. Safija is a restaurant located some 5 min. by car from the city center. I discovered the restaurant some years ago as some of my friends were posting pictures and it looked like a fairy tale and I just had to visit the place. My first visit to the restaurant was actually on my final visit to Sarajevo in June 2015. The restaurant is indeed amazing, the atmosphere is just incredible. When you arrive you're welcomed by a welcome drink and then you can start looking at the menu which has so many delicious meals to choose from. I would say that the restaurant is one of its kind in Sarajevo as both the interior and the way the food is being prepared is top standard, I could actually easily say that it's the most exclusive place in town.
Cuisine: International
When you know a lot of places in a city you tend to choose the same places over and over again and often you can actually pass by some amazing places, as in this case Restaurant Dveri. The restaurant is located in the very city center of Sarajevo, on Bascarsija. The place itself is very small but I promise you it's one of the most cozy restaurant you'll visit. It feels like you're sitting outside in a small old garden, very idyllic. As the room appears to be very narrow and somehow crooked it give the room some charm. If you visit the place you HAVE TO order pogaca with kajmak as one of your starters – it's amazing. The food itself is extremely delicious.
Cuisine: Bosnian/traditional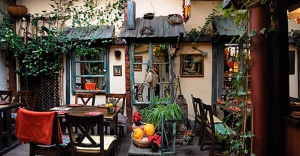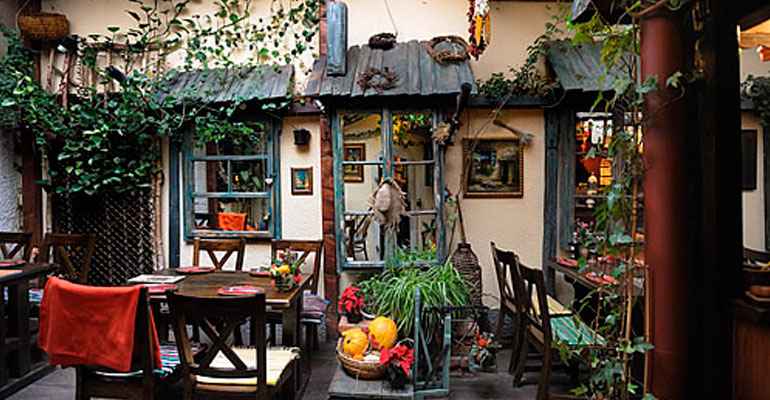 If you're looking for a restaurant with a view you definitely have to stop by Park Princeva. The restaurant is hidden at the very top of the Old City, in the mountain hill just above the city. The best place to sit is outside on the terrace, overlooking the city of Sarajevo. It's worth going both by day but especially at night as the atmosphere is simply amazing.
Cuisine: Bosnian/traditional
Buregdzinica Bosna
If you want to try a typical traditional dish, you have to try pita and why not get it from the best pita-place in town? Pita can be compared to a pie; it's basically phyllo dough filled with either meat or vegetables and each type of filling gives the pita a different name; burek being the most popular as it's filled with meat.
You can buy pita in almost any bakery in town but if you want the best of a kind you simply have to stop by Buregdzinica Bosna. The restaurant is located in the old part of the city, not far from the Sebilj.
Funny fact: In Bosnia we say when a woman can make a pita all from scratch, she's ready to get married!
Cuisine: Bosnian/traditional
Morica Han
The restaurant/café Morica Han is among my favorite spots in town; the reason being the surroundings. I love starting my day at the Han with a cup of Bosnian coffee and if you're hungry you can get some traditional food here as well.
Cuisine: Bosnian/traditional
The café Vatra, meaning flame as it's located right next to the Eternal Flame, is one of the most popular cafes in town. The café offers a wide range of dessert – high standard. However, what you really have to order when visiting Vatra is their pancakes, those with nutella! Most of my friends, including myself, have made it a tradition to stop by Vatra as soon as you'll arrive in town to simply order these pancakes. As with anything else you'll order, they sure don't save on the ingredients: the pancake is FILLED with nutella!
Cuisine: International
This traditional Bosnian restaurant "House of Spite" ( Inat kuća) is located in Sarajevo in the Old town Alifakovac. What makes this place special is the atmosphere inside: time seems to have stopped for more than 100 years. Dominated by wood, sofas, small tables and chairs. In the corners are seharas (jewelry boxes), on the shelves are old Bosnian dishes such as ibrik (ewer). Lighting is decorated in the traditional way and the lyrics of the sevdalinka, traditional Bosnian songs, enhancing the overall impression. The whole atmosphere is reminiscent of the Bosnian house, built in the Ottoman period.
Cuisine: Bosnian/traditional
If you have any question regarding where to eat, just ask – as there are a whole lot of other restaurants in Sarajevo.